Magnesium: an essential mineral involved in many biological functions including the normal modulation of NMDA receptors.
Surveys suggest around half of Americans consume less magnesium than what is estimated to be required. Most notable dietary sources of magnesium include almonds, brazil nuts, cashews, chards and kale. Magnesium deficiencies may be linked to, fatigue, irritability, insomnia, muscle tremors and twitching. Preliminary evidence from animal models suggest raising magnesium levels can increase learning and memory presumably by increasing synaptic plasticity.
---
Experience Increased Calm and Improved Sleep With MagTech.
Most Users Report Improvements From The First Use.
MagTech Is A Premium Blend of The 3 Most Powerful Forms of Magnesium.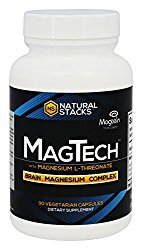 Our Magnesium Supplement Will Help You:
– Have a greater sense of calm and reduced anxiety
– Have deeper, more restorative sleep each night
– Increase your immunity and cardiovascular capacity
– Have a healthier brain with faster, clearer thought patterns
– Feel happier and more balanced
MagTech is 100% Chelated, Making It Easy For Your Body To Absorb and Use.
Beware of Cheap or Generic Magnesium Supplements On Amazon or In Stores.
There are a large number of low-quality products on the market, which are both useless and potentially harmful.
MagTech by Natural Stacks Is A Premium Magnesium Supplement, Made With The Finest Natural Ingredients.
---
Magnesium Deficiency Symptoms: Are You Magnesium Deficient?
---
Natural Stacks Magtech: Supplement Review by Ted Ryce
Save
Share Your Love For Nootropics!